Introduction to Telegram Plus (Abu Arab)
Telegram Plus, also known as Telegram Plus Gold, is a modified version of the popular messaging app Telegram. Developed by "Abu Arab," this version offers a range of exclusive features and customization options that enhance the overall user experience. Telegram Plus provides users with unique functionalities and a distinct interface, making it a preferred choice for those seeking a personalized and secure messaging platform.
What is Telegram Plus?
Telegram Plus (Abu Arab) is an enhanced version of Telegram, an instant messaging app known for its security and privacy features. Telegram Plus offers additional functionalities not available in the official Telegram app. It aims to provide users with more control over their messaging experience, enabling them to customize the app's appearance and access various settings for enhanced privacy and security.
Features of Telegram Plus (Abu Arab):
Telegram Plus comes with several exclusive features and customization options that set it apart from the official Telegram app. Here are some of its standout features: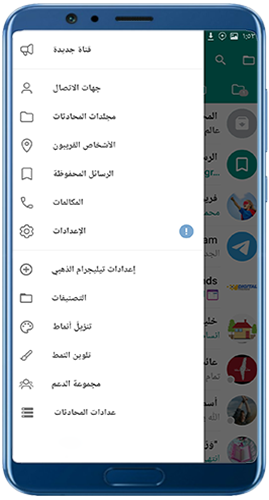 Side Menu: The side menu in Telegram Plus Gold is different from the official Telegram program, offering a unique and user-friendly interface.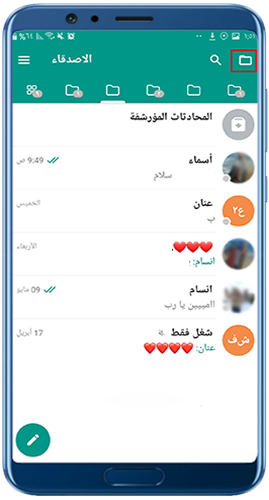 Folder Classification: Telegram Plus allows users to classify chats into folders, with archived chats placed at the top of the page for easy access.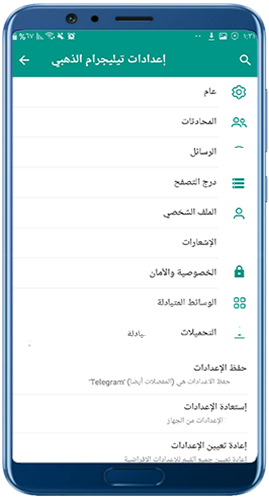 Enhanced Settings: Telegram Plus provides users with an extensive range of options in settings, including privacy, security, message settings, and more.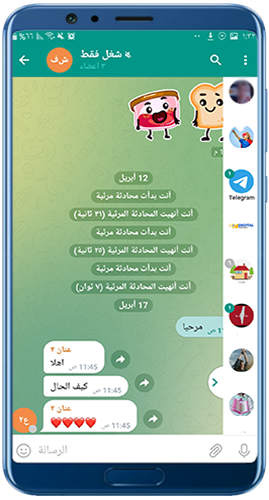 Side Menu in Chats: Users can view the sender of messages directly from the chat page, eliminating the need to navigate back to the main menu.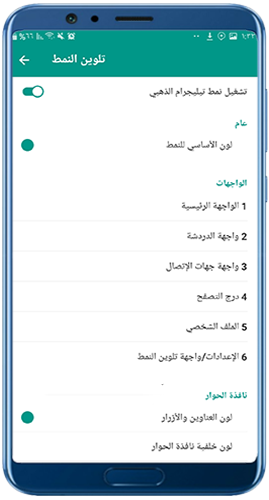 Customizable Style: Telegram Plus allows users to personalize the app's appearance by choosing their preferred color scheme from the side menu.
Advantages of Golden Telegram (Telegram Plus Gold):
Run Multiple Telegram Numbers: Golden Telegram allows users to run more than one Telegram number on their Android device, making it convenient to chat with friends and send messages on both accounts.
Hide Online Status: Users can hide their online status (last seen) while still being able to view the status of others, providing increased privacy.
Option to Hide the Number: Golden Telegram offers the option to hide the user's phone number, adding an extra layer of privacy.
Secret and Secure Chats: The app supports secret and secure chats, ensuring that conversations are encrypted and protected from unauthorized access.
Advanced Coloring Systems: Users have access to advanced coloring systems, allowing them to customize the appearance of the app according to their preferences.
Multi-Language Support: Golden Telegram supports more than 12 languages, including Arabic, catering to a diverse user base.
Beautiful Themes: The app offers a collection of very beautiful themes, allowing users to personalize their messaging experience.
Animation Control: Users can activate or deactivate animations within the app for smoother navigation.
Notification Control: Users have the option to turn notifications on or off as per their preferences.
Customizable Themes: Golden Telegram allows users to switch themes, control colors and sizes of connections, writing, and backgrounds.
Privacy Settings: Users can adjust their privacy settings to control who can see their profile information and online status.
Broadcast List: The app allows users to share files with a broadcast list that can include more than 99 contacts, facilitating efficient communication.
Other Advantages of Telegram Plus Gold 2023:
Screen Capture in Secret Chat Mode: Users can capture screenshots in secret chat mode for added security.
Move Members Between Groups: Administrators have the ability to move members from one group to another for better group management.
View Deleted and Edited Messages: The app allows users to view deleted and edited messages, providing a comprehensive chat history.
Autoresponder Feature: Golden Telegram includes an autoresponder feature that can automatically reply to messages.
Chat Translation: Users can translate chats to other languages, enabling seamless communication with international contacts.
Change Fonts: The app offers font customization options, allowing users to change the appearance of their messages.
Conversation Categorization: Users can easily categorize conversations from the home page, making it easier to manage chats.
Voice Change: The app provides the ability to change the voice during voice calls, adding a fun and creative element to conversations.

Pros of Telegram Plus (Abu Arab):
Ghost Mode: Allows users to stay invisible and not show online status.
Message Recovery: Shows deleted messages from chats, channels, and groups.
Group Management: Ability to transfer members from one group to another and add bulk members from any group.
Modified Message Indicator: Highlights modified messages with the modification time and the difference before and after modification.
Offline Mode: Option to turn off the internet for the app.
Font Customization: Users can change the font to personalize their messaging experience.
Ad Removal: Removes ads from the app for an ad-free experience.
Unlock Premium Features: Unlocks some premium features, including full chat translation and additional fonts.
Customization Options: Users can delete and rearrange the side menu, change chat sounds, and enhance the app's appearance.
Improved Arabic Language: Offers complete correction and improvements for the Arabic language.
Enhanced Restrictions: Enables users to perform additional actions in restricted channels and groups, like copying, pointing, taking screenshots, and recording screen videos.
Login with QR Code: Provides an option to log in with a QR code, simplifying the login process across devices.
Audio Recording Quality: Users can improve the quality of audio recordings.
Link Analysis: Option to analyze links in [text] (link) format.
Emojis and Stickers as Profile Picture: Users can use emojis and stickers as their profile pictures for added personalization.
Chat Translation: Offers translation for entire chats, facilitating communication with users who speak different languages.
Detailed Data Usage: Provides data and storage usage details with new icons for easier understanding.
Premium Machine Translation: Implements premium machine translation for all users, enhancing language translation capabilities.
Cons of Telegram Plus (Abu Arab):
As with any modified version of an app, there may be potential risks associated with using third-party applications, including security concerns and limited official support.
Since it is not an official version, users may face compatibility issues or bugs that could affect the overall user experience.
Updates might not be as prompt as the official Telegram app, leading to possible delays in receiving new features and bug fixes.
As a modified version, there is a chance that some features may not work as expected or may have limitations compared to the original Telegram app.
Using unofficial versions of messaging apps like Telegram Plus may violate the terms of service of the original app, leading to potential account suspension or restrictions.

FAQ – Telegram Plus (Abu Arab)
1. What is Telegram Plus (Abu Arab)? Telegram Plus (Abu Arab) is a modified version of the official Telegram messaging app developed by Abu Arab. It offers additional features and customization options not available in the original app.
2. Where can I download Telegram Plus (Abu Arab)? You can download Telegram Plus (Abu Arab) from the official website "https://redwhatsapp.com/". Please note that downloading and using modified versions of apps may have associated risks.
3. What is the size of Telegram Plus (Abu Arab)? The size of Telegram Plus (Abu Arab) is approximately 54MB.
4. What are the new features added in the latest version of Telegram Plus (Abu Arab)?
Download and upload speed booster (beta, demo only).
Monet Light and Monet Dark themes (android 12+).
Button to clear the database in storage usage.
Option to always show media spoilers.
Option to select all topics.
Category topics in Plus settings.
Show all groups with topics as messages.
Save "View as Messages" option for each group separately.
Hide premium stickers option.
"Disabled" option for chat menu swipe left gesture.
Force layout of micro reactions in the chat.
Buttons for back and forth steps of the audio player.
Improved graphic editor for Android.
Media spoiler: Photos and videos can be hidden under a spoiler.
Improved cache management in data and memory section.
Option to hide group members.
Set a profile picture or video for viewers not allowed to see the main avatar.
Global auto-delete timer for all new chats.
Large groups with more than 100 members can organize discussions into topics.
Powerful anti-spam filtering for large groups (optional).
Temporary QR codes for users who hide their phone numbers.
Storage Usage shows space usage for each chat.
Option to install/uninstall more than 3 themes.
Large groups with more than 200 members can sort discussions into topics.
Premium users can convert audio and video messages into text.
Changing text size affects all text in chats, including reply titles and link previews.
Updated menu of voice and video call options when clicking on a phone number in the user profile.
New animation when swiping left on messages to reply.
New placeholders when uploading messages in groups and channels.
5. Is Telegram Plus (Abu Arab) safe to use? Using modified versions of apps like Telegram Plus (Abu Arab) comes with certain risks, including potential security issues and limited official support. It is essential to exercise caution and only download apps from trusted sources.
6. Can I use Telegram Plus (Abu Arab) alongside the official Telegram app? Yes, you can use Telegram Plus (Abu Arab) alongside the official Telegram app to manage multiple accounts or enjoy additional features. However, it is essential to be aware of the potential risks and implications of using modified versions.
Conclusion:
Telegram Plus (Abu Arab) is a feature-rich and modified version of Telegram, offering users a distinct and customizable messaging experience. With its unique side menu, folder classification, enhanced settings, and customizable style, Telegram Plus stands out as a user-friendly and versatile messaging platform. However, it's essential to use modified versions of apps with caution, as they may not be officially endorsed and could pose potential risks to privacy and security. Users are advised to exercise discretion and download apps from trusted sources.