DESCRIPTION:
Since the official version of WhatsApp doesn't have many features the users want such as hide the online status and save your friends status, WhatsApp Plus has become very famous lately for having these features, in this article we talk about Taiz WhatsApp, download Taiz WhatsApp and enjoy the features in it.
WHAT IS TAIZ WHATSAPP?
The developer Nour al-Din Taiz has developed two modified versions of WhatsApp Plus which are Pink Taiz WhatsApp and Blue Taiz WhatsApp, in the two versions you can customize the interfaces and control your privacy more, both of them can work next to the original WhatsApp.
UPDATE TAWHATSAPP
You can have the latest update of Taiz WhatsApp from the above buttons, but make sure you install the same version on your phone, if you downloaded the wrong version you will lose your chats.
HOW DO I KNOW THERE IS A NEW UPDATE?
From the application you can know if there is a new update, from the three vertical dots, select Nour Adds and go to Updates, then click search for new update, it will show you if there is a new update or not.
FEATURE:
UNIQUE INTERFACE
The main interface in AR WhatsApp is different from the original WhatsApp, you will notice there is:
The floating button, where you can access your contacts and the settings.
Turn off the internet from WhatsApp.
Lock WhatsApp by clicking on Taiz WhatsApp.8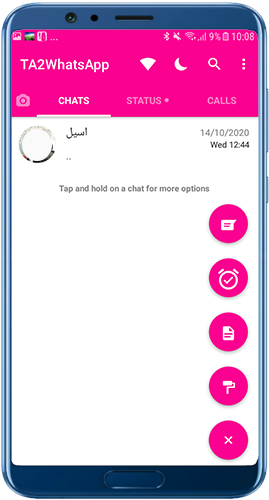 PRIVACY FEATURES
Hide your online status and last seen.
Hide "forward message".
Prevent deleting messages and statuses.
Hide blue ticks, second tick, "typing", and "recording".
Choose the people you want to call you.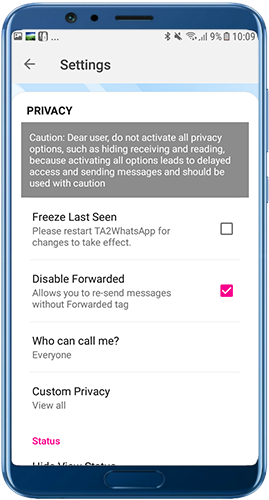 SEND UNLIMITED IMAGES
In the original WhatsApp you can only send 30 images at once, but in TAWhatsApp you can send 90 images at once, you can activate this option from Adds >> settings >> share unlimited images.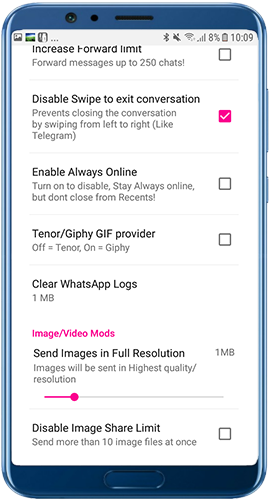 SCHEDULE MESSAGES AND AUTO REPLY
You can schedule messages to be sent to anyone at a later time even if you are not connected to the Internet, and you can also create an automatic reply to be sent to your contacts when you are busy.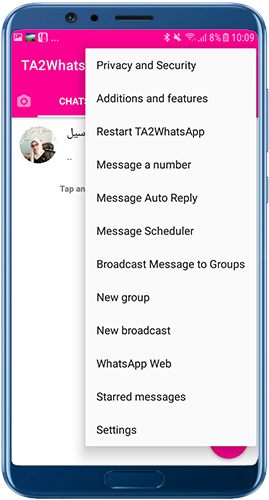 CUSTOMIZE INTERFACES
You can customize the chat interface any way you want it, by changing the font type, icon color, and style, you can do that from Plus Settings:
The Main interface: hide any icon you want, and move the bar down.
Chats: change the color of the bubble color and the background color.
Widget: control Whatsapp notifications.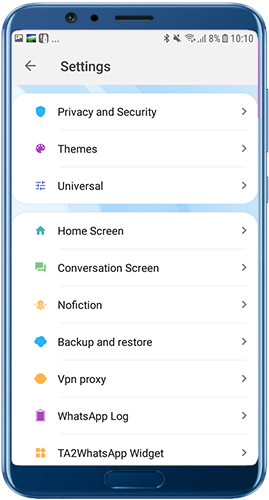 TAWHATSAPP STATUS
There is many options where you can control your status, you have the option to save your contacts' statuses, hide that you saw any status, and also copy any text status.
TAIZ WHATSAPP V15
Add an option to stop automatic media download.
New interfaces.
Add options to completely remove "Read more …" and display long messages
New shapes and new bubbles in Instagram statuses.
A new look for the floating button with the ability to hide and show the button.
Increase the number of characters in story to be more than 700 characters.

Pink TA2WhatsApp

Blue TAWhatsApp