Introduction:
Welcome to the world of NA6WhatsApp Queen, a remarkable messaging application developed by Nasser Al-Jaidi. With its exceptional features and stunning interface, NA6WhatsApp Queen aims to transform the way you communicate. This innovative messaging platform can be downloaded from the official website at https://redwhatsapp.com/ and occupies a compact size of 67MB.
What is NA6WhatsApp Queen?
NA6WhatsApp Queen is an extraordinary modified version of WhatsApp that introduces a wide range of exclusive features and enhancements. Developed by Nasser Al-Jaidi, NA6WhatsApp Queen is designed to provide users with a more personalized and enjoyable messaging experience, surpassing the limitations of the original WhatsApp application.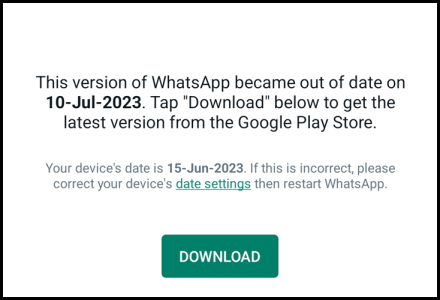 Temporary Suspension and Upcoming Update: NA6WhatsApp Queen temporarily stopped on 15/6/2023 due to the expiration of the underlying WhatsApp market version. However, rest assured, as the developer plans to release an update soon, resolving this issue. Stay updated by visiting our website, where we'll be the first to release the new update.
Ban Issue 2023: In light of recent developments, WhatsApp has started banning certain user accounts, resulting in permanent or temporary bans for some individuals.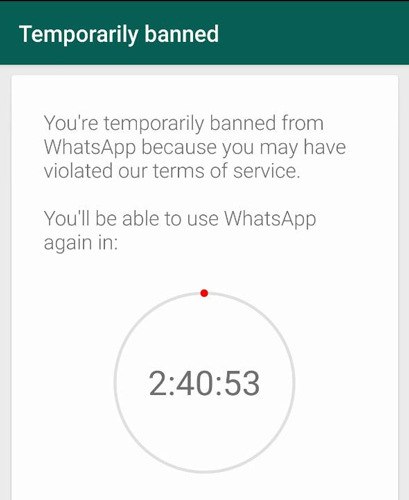 Temporary Ban: If you encounter a temporary ban, your account will be suspended for a few hours or days, during which a countdown timer will be displayed. Once the time elapses, the ban will be automatically lifted.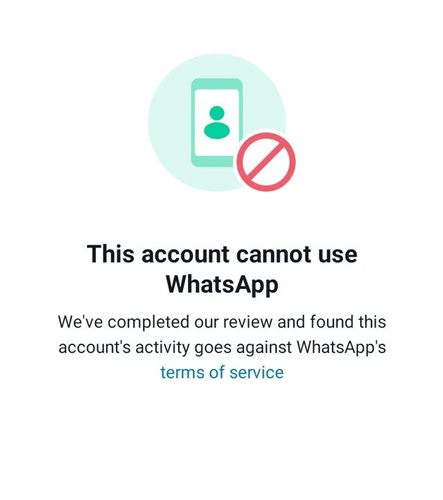 Things to do after lifting the temporary ban:
Exercise caution while using the app, avoiding excessive message sending.
Refrain from forwarding or spamming messages to all members simultaneously.
As a team specializing in WhatsApp, we recommend using the official version during this time to avoid account bans. You can download the official WhatsApp from this link. Before uninstalling WhatsApp Plus, remember to back up your data for future restoration. If you've been permanently banned, reaching out to WhatsApp support or utilizing a new number are the only ways to regain access. Technical support can be reached through the support page.
New Features of NA6WhatsApp Queen:
High Protection from Banning: NA6WhatsApp Queen ensures enhanced security measures to safeguard your account from bans.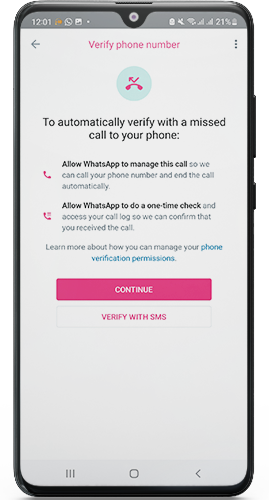 Flash Calls: Seamlessly log into your WhatsApp account without manually entering the six-digit verification code, thanks to the Flash Calls feature.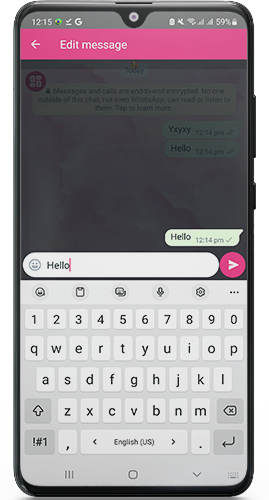 Message Editing: Enjoy the freedom to edit messages even after sending them, rectifying errors or adding additional information.
Hide Camera Icon: Customize your home screen by hiding the camera icon from the top bar, providing a cleaner interface.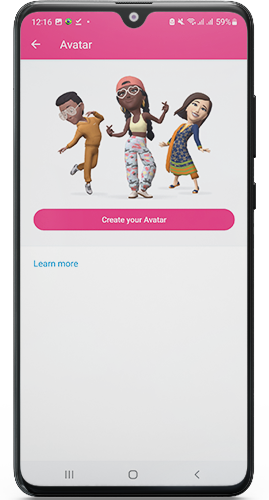 Create your Avatar: NA6WhatsApp Queen enables you to create your personalized Avatar, reminiscent of Bitmoji, allowing for unique self-expression within chats.
Message Yourself: Utilize the convenient feature of messaging yourself for personal reminders, notes, or securely saving important information.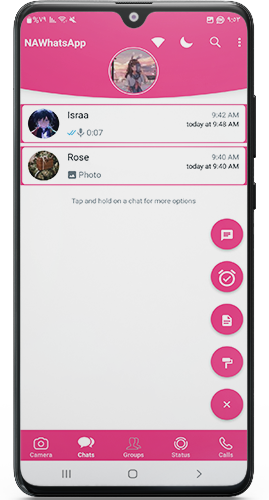 Main Home Screen: Feast your eyes on the vibrant pink-colored main home screen, as depicted in the image.
Additional Icons: Discover additional icons that facilitate easy access to various features within the application.
Dark Mode and Internet Control: Activate the dark mode and conveniently disable the internet directly from the app.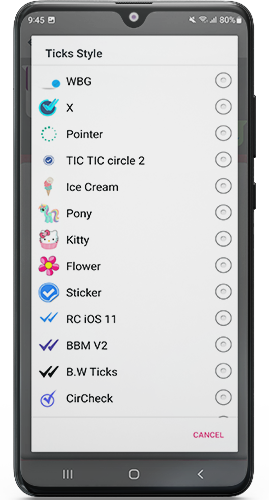 Ticks Style: NA6WhatsApp Queen offers a range of different tick styles to choose from if you find the normal ticks in WhatsApp chats monotonous. Simply navigate to NA Settings > Conversation Screen > Bubble and Ticks > Ticks Style.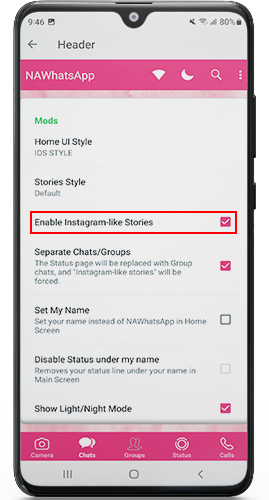 Instagram Stories: Transform your NA6WhatsApp Queen status into Instagram-like stories. Enable this feature by navigating to NA Settings > Home Settings > Header > Enable Instagram-Like Stories.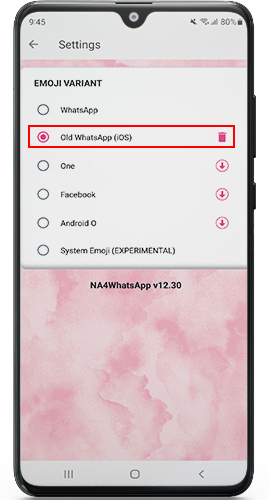 iOS Emoji Style: Experience the joy of using iOS-style emojis in NA6WhatsApp Queen by navigating to NA Settings > Change Emojis Variant. If you're a fan of the WhatsApp Android with an iPhone theme, consider downloading Fouad WhatsApp iOS.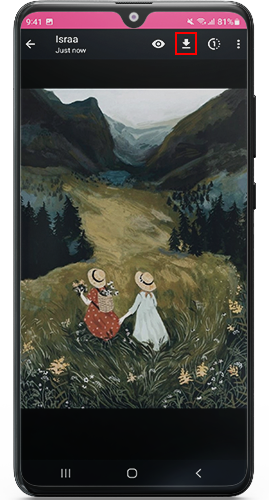 Save View Once Media: Save view-once media shared by your friends, without them knowing you've saved it.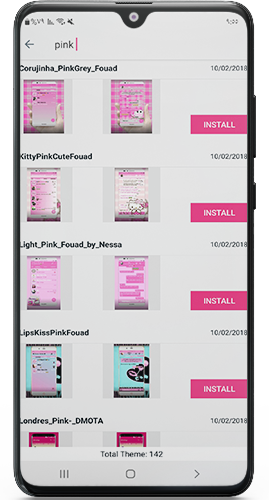 Theme Store: Personalize your NA6WhatsApp Queen with pink-colored themes available in the theme store.
View All Messages by Group Member: Easily view all messages sent by a specific member in a group chat.
Send Mass Messages: Effortlessly send messages to multiple recipients simultaneously.
Prevent Message Deletion: Prevent others from deleting messages you send, ensuring the preservation of important conversations.
Send Message to Unsaved Numbers: Send messages to phone numbers not saved in your contacts.
Privacy Control: Have full control over your privacy settings within NA6WhatsApp Queen.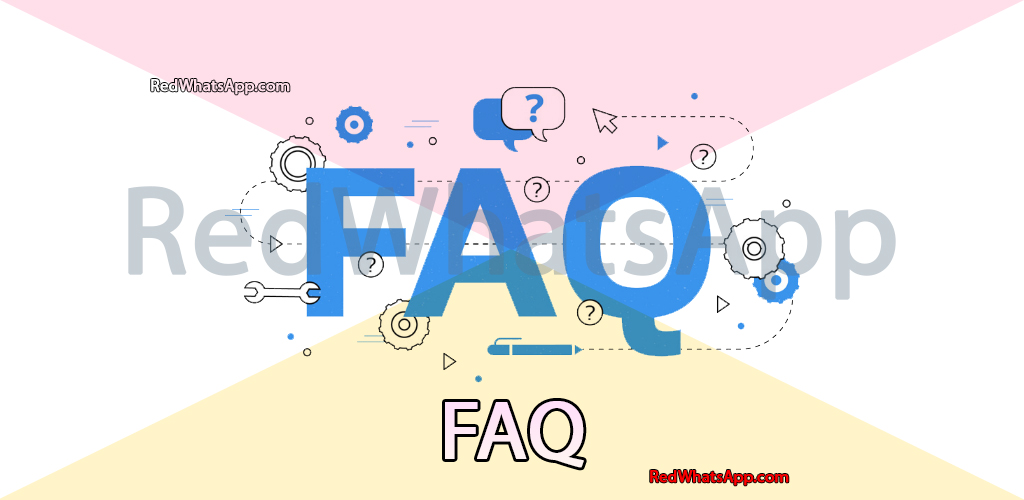 FAQ:
Will using NA6WhatsApp Queen get me banned from WhatsApp? No, you will not face a ban as long as you use NA6WhatsApp Queen correctly and avoid using the same WhatsApp number excessively.
Can I use NA6WhatsApp Queen on iOS? No, NA6WhatsApp Queen is exclusively available for Android devices.
What features does NA6WhatsApp Queen offer? NA6WhatsApp Queen offers an array of features that are not present in the official WhatsApp app. These include saving view-once media, reading deleted messages, and a wide range of customization options for the user interface.
Conclusion
In conclusion, NA6WhatsApp Queen, developed by Nasser Al-Jaidi, revolutionizes your messaging experience with its distinctive features, customization options, and enhanced security. By downloading the app from https://redwhatsapp.com/, you can enjoy a vibrant pink-themed interface and a multitude of unique functionalities. Make the most of NA6WhatsApp Queen's innovative features while ensuring a seamless and ban-free messaging experience.