Introducing NA4WhatsApp Pink:
Step into the world of colorful and secure messaging with NA4WhatsApp Pink! Crafted by the talented RedWhatsApp team, this exceptional messaging app is set to redefine the way you communicate. Published on https://redwhatsapp.com/ and boasting a size of 67MB, NA4WhatsApp Pink is here to bring a splash of pink and innovative features to your messaging world.
What is NA4WhatsApp Pink?
NA4WhatsApp Pink is an enchanting messaging app developed by RedWhatsApp. Built on the foundation of WhatsApp, it comes with a spectrum of exciting features and customization options, wrapped in a delightful pink hue to add a touch of uniqueness to your messaging experience.
Features:
High Protection from Banning: NA4WhatsApp Pink ensures high protection from account banning, allowing you to communicate without worry.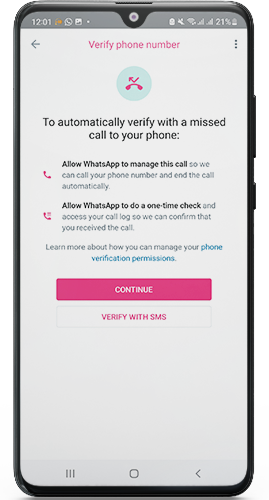 Flash Calls: Quickly log into your WhatsApp account without manual entry of the six-digit verification code with the convenient Flash Calls feature.
Message Editing: Enjoy the flexibility to edit messages after sending them, rectifying any errors or adding information effortlessly.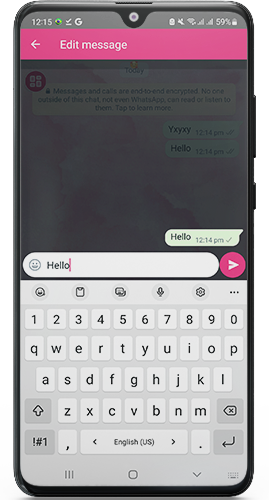 Hide Camera Icon: Customize your home top bar by hiding the camera icon, providing a sleek and streamlined interface.
Create Your Avatar: Unleash your creativity with avatars similar to bitmoji, adding a unique touch to your WhatsApp profile.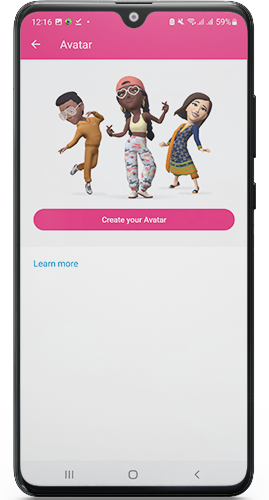 Message Yourself: Use the app to send messages to yourself, perfect for creating reminders or saving important information securely.
Main Home Screen: NA4WhatsApp Pink showcases a beautiful pink color scheme, with additional icons for easy access to various features like dark mode and internet toggle.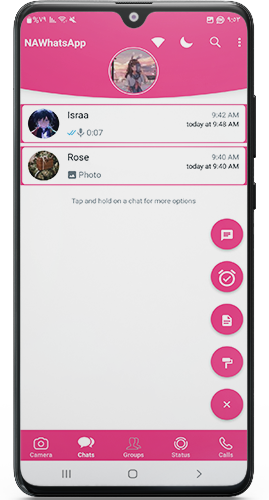 Custom Ticks Style: Choose from a variety of different ticks styles to personalize your WhatsApp chats, accessible through NA Settings > Conversation Screen > Bubble and ticks > Ticks Style.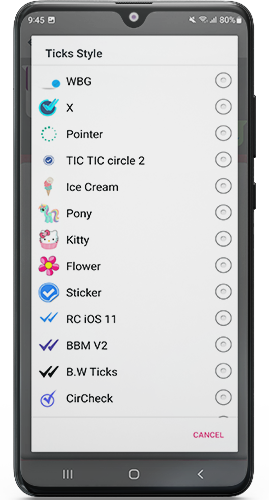 Instagram Stories: Transform your NA4WhatsApp Pink status into Instagram-like stories, making your updates more engaging. Enable this feature in NA Settings < Home Settings > Header > Enable Instagram-Like Stories.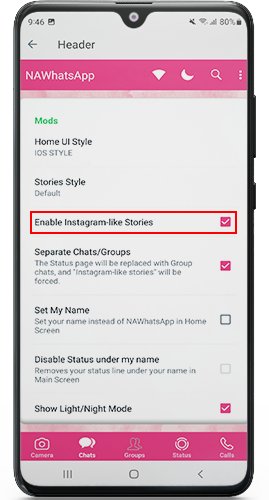 IOS Emoji Style: Love the look of iOS emojis? Switch to IOS Style emojis easily in NA Settings > Change Emojis Variant. You can also download Fouad WhatsApp iOS for an iPhone theme.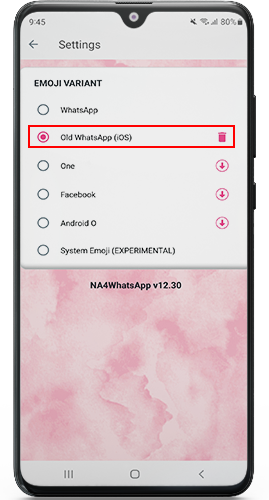 Save View Once Media: Keep View Once Media shared with you by friends without them knowing you saved it.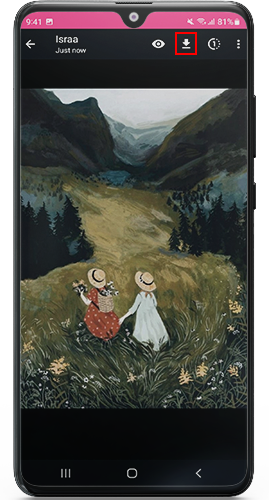 Theme Store: Browse and install pink themes from the theme store, allowing you to add a touch of pink to your NA4WhatsApp Pink in color.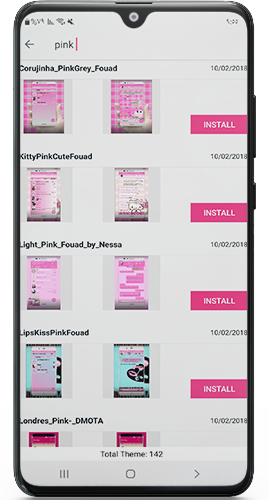 Additional Features:
View All Messages Sent by a Group Member: Easily access all messages sent by a specific group member in group chats.
Send Mass Messages: Send messages to multiple recipients simultaneously, streamlining communication.
Prevent Others from Deleting Messages: Exercise greater control over your conversations by preventing others from deleting messages.
Send Messages to Unsaved Numbers: Connect with unsaved numbers effortlessly using NA4WhatsApp Pink's unique feature.
Control Your Privacy: Empower yourself with robust privacy settings to tailor your online presence.

NA4WhatsApp Stopped (June Update):
We regret to inform you that NA4WhatsApp experienced a temporary disruption on 15th June 2023 due to the WhatsApp market version it was based on expiring. However, we assure you that our developer team is working diligently to release an update very soon. Keep an eye on https://redwhatsapp.com/, as we will be the first to release the eagerly awaited update.
NA4WhatsApp Ban Issue 2023: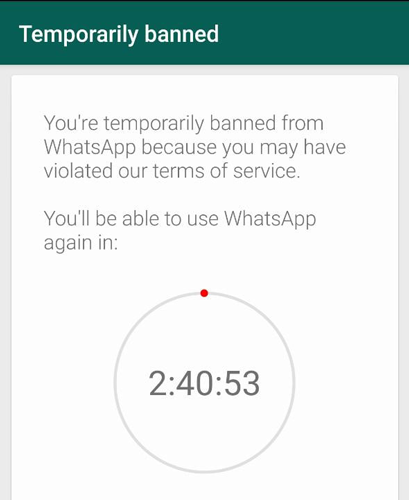 Lately, WhatsApp has begun banning some users' accounts, resulting in temporary or permanent bans. If you encounter a temporary ban, rest assured it will be lifted after the designated time. To avoid future bans, please refrain from excessive messaging, forwarding spam, and ensure you update the app to the latest version.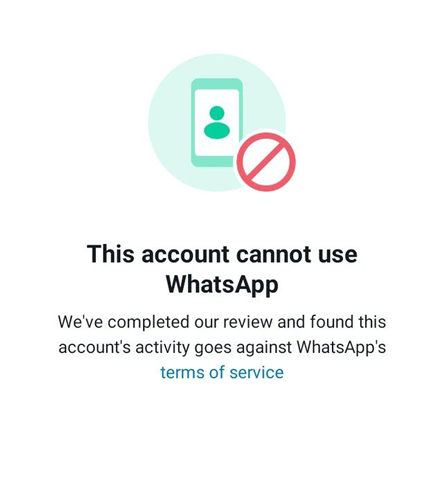 For permanent bans, reach out to WhatsApp support or consider using a new number. For technical support, visit the support page. For now, we recommend using the official WhatsApp version to avoid any issues.

Pros of NA4WhatsApp Pink (RedWhatsApp)
Unique Features: NA4WhatsApp Pink offers a range of exclusive features not found in the official WhatsApp, enhancing user experience.
Improved Ban Protection: The app boasts significant improvements in ban protection, reducing the risk of temporary or permanent bans.
Instant Translation: Users can now enjoy instant translation of any text within the app, making communication across languages easier.
Customization Options: NA4WhatsApp Pink allows users to customize the interface with new styles for contact information, application icons, and notification icons.
Enhanced Privacy: The app offers various privacy settings, including hiding the camera icon, disabling continuous playback of voice notes, and more.
Improved Media Sharing: Users can share multiple photos, videos, and files simultaneously from chat to external apps effortlessly.
Quick Reactions to Status: The ability to react quickly to status updates adds a fun and interactive element to the app.
Scheduled Messages: NA4WhatsApp Pink introduces the useful feature of scheduling messages for later delivery.
Online Privacy Options: Users have control over who can see their online status, ensuring greater privacy.
Group Admin Controls: Group admins can now efficiently manage chats, remove other people's messages, and view past participants.
Cons of NA4WhatsApp Pink (RedWhatsApp)
Not Officially Supported: NA4WhatsApp Pink is a modified version of WhatsApp and may not be officially supported by WhatsApp Inc., potentially leading to compatibility issues or security risks.
Ban Risk: Despite improved ban protection, using modded apps always carries the risk of temporary or permanent bans.
Data Security Concerns: As a third-party app, there is a possibility of data security and privacy concerns.
Limited Update Support: Modded apps may receive updates less frequently than official versions, potentially missing out on essential bug fixes and security patches.
Risk of Unreliable Sources: Downloading the app from untrusted sources may expose users to malware or other security threats.
Incompatibility with Some Devices: Certain features or customization options may not work optimally on all devices, leading to glitches or crashes.
Violation of WhatsApp's Terms of Service: The use of modded apps may breach WhatsApp's terms of service, putting users at risk of account suspension or restrictions.
No Official Technical Support: As a third-party modification, users may not have access to official technical support from WhatsApp Inc.
App Stability: While efforts are made to fix bugs and improve stability, modded apps may still encounter issues not present in the official version.
Regular App Updates Required: To stay up-to-date with the latest features and security enhancements, users may need to regularly check for and install new updates.

FAQ – NA4WhatsApp Pink (RedWhatsApp)
What is NA4WhatsApp Pink? NA4WhatsApp Pink is a modified version of WhatsApp developed by RedWhatsApp. It offers unique features and customization options not available in the official WhatsApp.
Where can I download NA4WhatsApp Pink? You can download NA4WhatsApp Pink from the official website: https://redwhatsapp.com/
What is the size of NA4WhatsApp Pink? NA4WhatsApp Pink has a size of 67MB.
What devices are compatible with NA4WhatsApp Pink? NA4WhatsApp Pink is compatible with Android devices running version 4.4.2 and above.
Is NA4WhatsApp Pink safe to use? While efforts are made to improve security, using modified apps like NA4WhatsApp Pink always carries some risk. Downloading from trusted sources and exercising caution is recommended.
Can I use multiple WhatsApp accounts with NA4WhatsApp Pink? Yes, NA4WhatsApp Pink supports the use of multiple WhatsApp accounts, similar to Telegram's feature.
What are the advanced privacy settings in NA4WhatsApp Pink? NA4WhatsApp Pink provides enhanced privacy options, such as hiding the double tick, blue tick, and call log notifications.
Can I retrieve and view deleted messages in NA4WhatsApp Pink? Yes, NA4WhatsApp Pink allows you to retrieve and view deleted messages, offering more flexibility and control.
Does NA4WhatsApp Pink support different languages and fonts? Yes, NA4WhatsApp Pink supports over 40 languages and offers 20+ font types with various colors to personalize your chats.
Are there any automated messaging features in NA4WhatsApp Pink? NA4WhatsApp Pink allows you to set up a Text Bot to provide instant automated replies to specific messages.
Can I share a large number of images and HD videos at once with NA4WhatsApp Pink? Yes, NA4WhatsApp Pink enables you to share over 100 images and HD videos instantly with ease.
What is the expiration period for NA4WhatsApp Pink? The app may have an expiration period that requires users to update it regularly to keep using it.
What are the recent fixes and improvements in NA4WhatsApp Pink? Recent fixes include resolving the malicious app alert issue, improving translations, and making various other bug fixes and enhancements.
How do I access quick translation within conversations in NA4WhatsApp Pink? You can now access quick translation by long-pressing on any text in a conversation.
Can I hide the privacy conditions notification in NA4WhatsApp Pink? Yes, you can hide the privacy conditions notification without accepting it through the "Hide privacy message" option.
How do I customize the theme color in NA4WhatsApp Pink? NA4WhatsApp Pink offers various theme colors for customization, and you can select your preferred theme from the available options.
Does NA4WhatsApp Pink have full backup support on Android 11+? Yes, NA4WhatsApp Pink now supports full backup on Android 11 and above devices.
Is there customer support available for NA4WhatsApp Pink? As a modified app, official technical support may not be available. Users are encouraged to seek help from the developer's website or community forums.
Is it legal to use NA4WhatsApp Pink? The use of modified apps like NA4WhatsApp Pink may violate WhatsApp's terms of service. Users should be aware of potential risks and legal implications.
What are the advantages of NA4WhatsApp Pink over the official WhatsApp? NA4WhatsApp Pink offers exclusive features, customization options, and improved privacy settings not present in the official WhatsApp, enhancing user experience and control. However, it is essential to consider potential risks and drawbacks before using a modified app.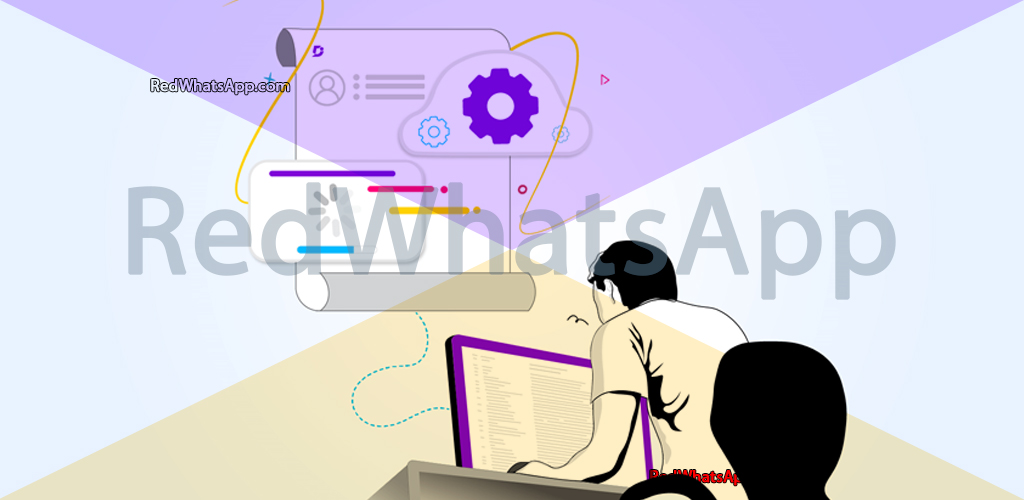 Installation Guide for NA4WhatsApp Pink (RedWhatsApp)
Download NA4WhatsApp Pink

Visit the official RedWhatsApp website at https://redwhatsapp.com/.
Locate the download link for NA4WhatsApp Pink.
Click on the download link to save the APK file to your device.

Enable Unknown Sources
Install NA4WhatsApp Pink
Allow Necessary Permissions

During installation, you may be prompted to grant certain permissions for the app to function correctly.
Allow the necessary permissions to ensure smooth functionality.

Launch NA4WhatsApp Pink

Once the installation is complete, locate the NA4WhatsApp Pink icon on your device's home screen or app drawer.
Tap on the icon to launch the app.

Initial Setup

Upon launching, you will be asked to provide your phone number.
Enter your phone number and verify it through the OTP (One-Time Password) sent via SMS.

Configuration and Customization

After verification, you can configure the app settings according to your preferences.
Explore the various customization options, such as themes, fonts, and emojis, to personalize your experience.

New Features and Improvements

Enjoy the exclusive features, such as increased character limit, message editing, and quick translation within conversations.
Benefit from automatic dark/light mode switching from the theme store for a better viewing experience.

Improved Privacy Settings

Take advantage of advanced privacy settings, such as hiding the privacy conditions notification and controlling read receipts.

Optimized Performance

NA4WhatsApp Pink offers better performance and speed, ensuring a smooth user experience.

Additional Enhancements

Enjoy the improved copy size reduction and various other fixes and improvements implemented in the app.
Conclusion
In conclusion, NA4WhatsApp Pink is a captivating messaging app adorned with exciting features and a delightful pink theme. Embrace the realm of secure and colorful communication by downloading NA4WhatsApp Pink from https://redwhatsapp.com/ and reign over a realm of delightful messaging experiences!