Introduction:
Introducing MJ WhatsApp, a modified version of WhatsApp that brings a range of exclusive features and improvements to enhance your messaging experience. Developed by ALGiNhi, MJ WhatsApp offers unique functionalities that go beyond the original WhatsApp application. From animated backgrounds to advanced file management, this version takes your conversations to a whole new level. Let's explore the exclusive features, improvements, and benefits of MJ WhatsApp.
Features:
Animated Backgrounds in Chats MJ WhatsApp takes personalization to another level by introducing the ability to set animated backgrounds in your chats. Say goodbye to static wallpapers and welcome dynamic and vibrant visuals that bring life to your conversations.
Compression Tool and Online Image Editing With MJ WhatsApp, you gain access to a built-in compression tool that allows you to reduce the file size of your images without compromising quality. Additionally, the online image editing feature lets you make quick edits and enhancements right within the app, saving you time and effort.
Holy Quran with Audio Online For those seeking spiritual enrichment, MJ WhatsApp provides an exclusive feature of accessing the Holy Quran with audio online. Experience the beauty of recitation and seamlessly switch between messaging and spiritual contemplation.
Comprehensive Backup and Restore MJ WhatsApp ensures the safety of your valuable data by offering a comprehensive backup and restore functionality. You can effortlessly back up and restore all your WhatsApp files, including photos, videos, and more, giving you peace of mind.
Enhanced Style on the Main Screen The latest version of MJ WhatsApp introduces an improved style of lines on the main screen, enhancing the overall visual appeal and making your messaging experience more enjoyable.
iOS 2023 Emoji Pack Stay up to date with the latest emojis by incorporating the iOS 2023 emoji pack into your MJ WhatsApp. Express yourself with a wide range of expressive icons that perfectly capture your emotions.
Sending Documents Over 100MB Sometimes, you need to share large files with your contacts. MJ WhatsApp enables you to send documents over 100MB, providing you with the freedom to share important files without limitations.
Pinning Messages in Private Chats Effortlessly keep important messages within reach by pinning them to any private chat. MJ WhatsApp allows you to pin messages, ensuring that crucial information is readily accessible whenever you need it.

Pros of MJ WhatsApp:
High Application Protection from Ban: MJ WhatsApp offers enhanced security measures to protect your account from bans and restrictions, ensuring a smooth messaging experience without interruptions.
Send Images in High Resolution: With MJ WhatsApp, you can send images in high resolution, allowing you to share and appreciate the finest details of your photos with your contacts.
Modifying Sent Messages: MJ WhatsApp gives you the ability to modify messages that have already been sent in conversations, providing you with the flexibility to correct any mistakes or make updates as needed.
Customizable Message Box Shape for Unsaved Numbers: Customize the shape of the message box specifically for unsaved numbers, allowing for a distinct visual representation and easier identification of contacts.
Hide Save and Status View Icons: MJ WhatsApp offers the option to hide the save icon and status view icon on the status page, giving you a cleaner and more streamlined user interface.
Change Font Directly from Phone Files: Enjoy the freedom to change the font of your choice directly from your phone files, allowing you to personalize your messaging experience with different typography styles.
Option to Hide Video Hash on Status Page: Maintain privacy and control over your status updates with the option to hide the video hash on the status page, ensuring that only desired viewers can access your videos.
Automatic Backup Functionality: MJ WhatsApp includes an automatic backup feature that allows you to conveniently back up your data on a daily basis, providing peace of mind and ensuring that your important messages and media are always safe.
Proxy Option for Prohibited Countries: Enable the use of a proxy for countries where WhatsApp is prohibited, allowing you to bypass restrictions and continue using the app seamlessly.
Message Preservation in Conversations: Activate the option to keep messages in conversations, even if they are automatically deleted. This feature allows you to save important messages by long-pressing on them.
Cons of MJ WhatsApp:
Increased Risk of Account Suspension: Using modified versions of WhatsApp like MJ WhatsApp may violate the platform's terms of service, which could lead to the suspension or permanent banning of your account.
Unsupported by Official WhatsApp: MJ WhatsApp is not endorsed or supported by the official WhatsApp developers. As a result, you may encounter compatibility issues or miss out on official updates and security patches.
Privacy and Security Concerns: Modified versions of messaging apps may pose potential privacy and security risks, as they are not subjected to the same rigorous testing and security protocols as official apps.
Limited User Base and Support: As MJ WhatsApp is a modified version, it may have a smaller user base compared to the official WhatsApp. This can result in limited support and fewer resources available for troubleshooting issues.
Incompatibility with Official WhatsApp Features: Some features available in the official WhatsApp may not be present or fully functional in MJ WhatsApp. This could lead to inconsistencies in user experience and compatibility with other WhatsApp users.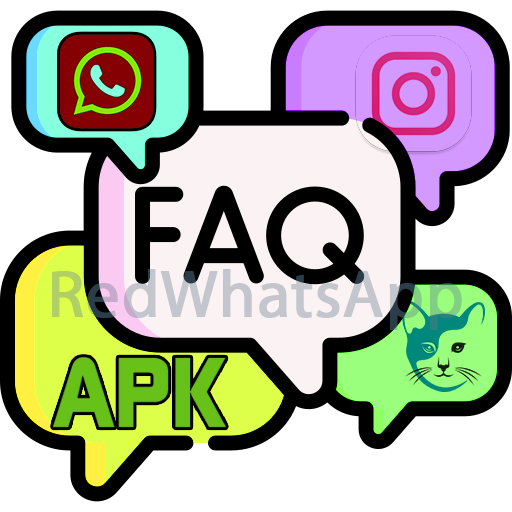 Frequently Asked Questions (FAQ) – MJ WhatsApp
What is MJ WhatsApp?
MJ WhatsApp is a modified version of the popular messaging app, WhatsApp. It offers additional features, customization options, and bug fixes to enhance the user experience.
Where can I download MJ WhatsApp?
You can download MJ WhatsApp from the official website "https://redwhatsapp.com/". Make sure to download it from a trusted source to ensure the security of your device.
What are the new styles added for the Instagram story feature?
MJ WhatsApp introduces four new styles for the Instagram story feature, allowing users to add unique and creative elements to their stories. These new styles provide users with more options to express themselves visually.
Can I hide the camera icon on the home page?
Yes, MJ WhatsApp offers an option to hide the camera icon from the top bar on the home page. This feature provides a cleaner and more streamlined interface, removing unnecessary elements for a personalized user experience.
How does the automatic activation of five-minute status work?
In MJ WhatsApp, sending a five-minute status is automatically activated. This means that when you create a status update, it will be automatically set to last for five minutes by default. You can customize the duration according to your preference.
Is there a way to recover deleted messages?
Yes, MJ WhatsApp enables the option to recover deleted messages. If you accidentally delete a message, you can use the "return" feature to retrieve it. This helps prevent the loss of important conversations and provides added convenience.
Will I be able to see a person's status by clicking on their photo?
Absolutely! MJ WhatsApp enables the display of a person's status when you click on their photo on the home page. This allows you to stay updated with the latest status updates of your contacts without having to navigate through their profile.
Are there any fixes for common issues in MJ WhatsApp?
Yes, MJ WhatsApp addresses various bug fixes and improvements. It resolves issues such as writing and recording not working, corrects gallery problems in the new One UI mailbox, eliminates blank spaces during voice note recording, and fixes errors related to message forwarding and backup restoration.
How can I hide recent cases and viewed cases?
MJ WhatsApp provides the option to hide recent cases and viewed cases, allowing you to maintain privacy and control over your interactions. This feature ensures that your activities are not visible to others within the app.
Can I move the option to re-publish my status?
Yes, MJ WhatsApp allows you to move the option to re-publish your status. You can find this option in the status download section, providing easy access and convenience.
Conclusion:
MJ WhatsApp, developed by ALGiNhi, introduces a wealth of exclusive features and improvements to the WhatsApp experience. From animated backgrounds and online image editing to the Holy Quran with audio, this modified version offers unique functionalities that go beyond the original WhatsApp application. With enhanced file management, improved styles, and various activations, MJ WhatsApp provides a customized and feature-rich platform for your messaging needs.
Download MJ WhatsApp from the official website and unlock a world of exciting features and improvements. Elevate your messaging experience, express yourself creatively, and enjoy the convenience and versatility that MJ WhatsApp brings to your fingertips. Upgrade to MJ WhatsApp today and discover a new dimension of communication.