Introducing MAWhatsApp:
MAWhatsApp, developed by Monjed Amhaz, is a versatile alternative version of the official WhatsApp application. With its release on "https://redwhatsapp.com/" and a size of just 65MB, MAWhatsApp offers an array of exciting features designed to enhance your messaging experience.
Let's delve into the unique features that set MAWhatsApp apart:
Enhanced Privacy:
Take control of your privacy with MAWhatsApp's advanced options. You can hide your online status, customize privacy settings for each conversation, and even hide specific conversations from prying eyes.
Auto Reply and Scheduled Messages:
MAWhatsApp simplifies communication by allowing direct automatic responses without the need for additional software. Moreover, you can schedule messages to be sent at specific times, ensuring you never miss an important conversation.
Extensive Theme Collection:
Customize your messaging experience with over 3000 server themes. MAWhatsApp offers a wide range of visually appealing themes, allowing you to personalize the app according to your preferences.
Font Customization:
Stand out from the crowd by changing the program font in MAWhatsApp. Express your unique style with a font that resonates with your personality.
Deleted Message Notification:
When someone deletes a message in a chat, MAWhatsApp marks it with a 🚫 symbol, so you can be aware of deleted content.
Internet Independence:
MAWhatsApp enables you to turn off the internet specifically for WhatsApp while maintaining internet connectivity for other applications on your device. This feature ensures you can stay connected across multiple platforms without interruption.
Secure Chats:
Keep your chats protected with MAWhatsApp's lock feature. Whether it's a secret code, pattern, or fingerprint, you can choose the level of security that suits your needs.
Seamless Communication:
Reach out to anyone, even if their number is not saved in your device. MAWhatsApp allows you to send messages to unsaved contacts, ensuring seamless communication.
Group Management:
MAWhatsApp offers advanced group features, including the ability to distinguish between group and regular messages. You can also track who is currently online and set password locks for added security.
Media Sharing Made Easy:
Share your memories in high resolution with MAWhatsApp's ability to send images in superior quality. You can send up to 100 images at once, compared to the limit of 10 in the official WhatsApp version.
Expanded Status Limit:
Express yourself without restrictions. MAWhatsApp lets you set a status with up to 250 characters, providing ample space to share your thoughts, experiences, or creative expressions.
Enhanced Link Handling:
Click on links without worrying about exposing the sender's or group owner's phone number. MAWhatsApp ensures privacy by not storing this information when accessing links.
Group Statistics Counter:
Stay informed with MAWhatsApp's group statistics counter, which provides insights into the activity and engagement levels within your groups.
Customizable Interface:
Personalize the look and feel of MAWhatsApp by changing the program's shape, icon, and notification style. Tailor the app's appearance to match your preferences and make it uniquely yours.
Call Filtering:
MAWhatsApp offers the convenience of blocking calls from specific contacts or even from everyone, giving you full control over your incoming calls.

Pros:
Message Modification: MAWhatsApp introduces the ability to modify messages even after sending them. This feature can be handy for correcting typos or updating information in your conversations.
Enhanced Ban Protection: The latest version of MAWhatsApp boasts more robust protection against temporary bans compared to previous versions. This improvement can help ensure uninterrupted usage.
Fixed Link Functionality: MAWhatsApp addresses the issue of non-functional links, ensuring a smoother browsing experience within the app.
Instant Translation: With the addition of instant translation, MAWhatsApp allows you to translate any text with a long press on the translation icon. This feature can facilitate multilingual conversations and improve communication.
Simultaneous Translation Control: MAWhatsApp provides an option to activate or deactivate simultaneous translation, giving users flexibility in managing their translation preferences.
Messaging Yourself: Activate the "You can message yourself" feature in MAWhatsApp to save important information or act as a personal notepad within the app.
Text with Photo/Video: MAWhatsApp enables the convenient sending of text along with photo or video attachments, enhancing your ability to express yourself.
Enhanced Camera Experience: Enjoy the new look and feel when opening the camera in MAWhatsApp, enhancing your media capture and sharing experience.
Sound in Status: Share even more engaging statuses with the ability to send audio clips. This feature adds variety to your status updates and allows for more creative expression.
Media Save Option: MAWhatsApp offers the choice to save media content when the option to not save in the gallery is activated. This feature provides greater control over your media storage.
Revamped Contact Information: MAWhatsApp introduces a fresh and improved design for contact information, making it easier to navigate and access relevant details.
Notification for Status Viewing: Stay informed when someone views your status with the new notification option. This feature allows you to track engagement and interactions more effectively.
Direct Translation: MAWhatsApp includes translation capabilities directly within conversations, making it easier to understand and communicate with contacts who speak different languages.
Translation Options: Choose between instant translation or Google Translate within MAWhatsApp, providing flexibility based on your translation preferences.
Message Counter: A message counter feature allows you to see the total number of messages sent by a specific person. This can be useful for tracking communication patterns and evaluating interactions.
File Cleanup Option: MAWhatsApp offers an option to clean all unnecessary files, freeing up storage space on your device and improving app performance.
Message Scheduler and Auto Reply: Enjoy the convenience of scheduling messages and setting auto replies within MAWhatsApp. These features can streamline communication and save time.
Variable Voice Message Speed: MAWhatsApp allows you to listen to voice messages at different speeds by changing playback buttons. This functionality gives you greater control over message playback.
Media Display Once: MAWhatsApp introduces the option to send and display media files only once. This can be useful for sharing time-sensitive or confidential content.
Enhanced User Interface: MAWhatsApp features a redesigned lock screen and pattern interface, providing a refreshed look and improved usability.
Cons:
Potential Security Risks: Modified versions of WhatsApp, including MAWhatsApp, may pose security risks as they are not developed or officially supported by WhatsApp. Use caution when using modified apps and ensure you understand the potential risks involved.
App Stability: As with any modified application, there is a possibility of encountering stability issues or occasional crashes. These issues may affect your overall user experience.
Compatibility: MAWhatsApp may not be compatible with all devices or operating systems. Ensure that your device meets the necessary requirements before installing the app.
Unsupported by Official Channels: Since MAWhatsApp is a modified version, it is not supported by official WhatsApp channels. This means you may not receive official updates or support from WhatsApp itself.
Reduced Privacy: While MAWhatsApp offers privacy-enhancing features, using a modified version of WhatsApp may compromise your privacy and data security. Exercise caution when sharing sensitive information through modified apps.
Limited Official Support: In case of any issues or technical difficulties, official support channels may not be able to assist you since MAWhatsApp is not an official WhatsApp product.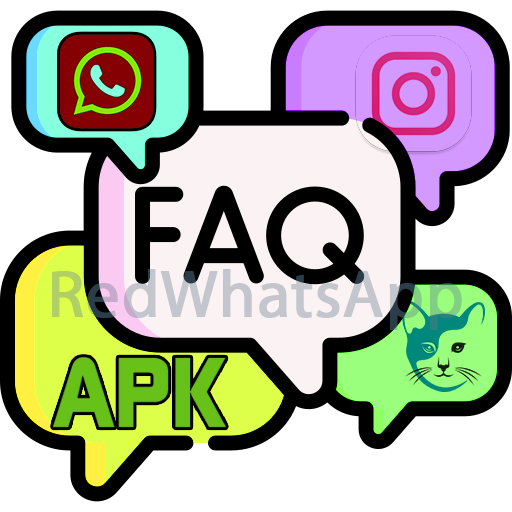 Frequently Asked Questions (FAQ) – MAWhatsApp
What is MAWhatsApp?
MAWhatsApp is a modified version of the popular messaging application, WhatsApp, developed by Monjed Amhaz. It offers additional features and improvements to enhance your messaging experience.
Where can I download MAWhatsApp?
You can download MAWhatsApp from the official website "https://redwhatsapp.com/". Ensure that you download it from a trusted source to avoid any security risks.
What is the size of MAWhatsApp?
The size of MAWhatsApp is approximately 65MB. Make sure you have sufficient storage space on your device before installing the application.
What are the key features of MAWhatsApp?
Modify messages after sending them
Enhanced protection against temporary bans compared to previous versions
All links are now functional
Instant translation when sending any text (long press on the translation icon to change the translation language)
Option to activate or cancel simultaneous translation
Ability to message yourself for saving important information
Send text with photo/video attachments
Refreshed look when opening the camera
Send sound along with your status updates
Option to save media when the "do not save in the gallery" option is activated
Redesigned contact information layout
Notification option when viewing statuses
Direct translation within conversations
Option to choose between instant translation and Google Translate
Message counter to track the total number of messages sent by a specific person
Option to clean unnecessary files
Message scheduler and auto-reply features
Listen to voice messages at different speeds
Send and display media files only once
Dark/light color mode available
Resolved Arabic alignment issues
General bug fixes and improvements
Is MAWhatsApp safe to use?
While MAWhatsApp offers additional features, it's important to note that modified versions of applications may pose potential security risks. Exercise caution and ensure you understand the risks involved when using modified apps.
Can I use MAWhatsApp alongside the official WhatsApp application?
Yes, MAWhatsApp allows you to run multiple accounts simultaneously. You can use it alongside the official WhatsApp application to manage multiple accounts on the same device.
Will I receive official updates for MAWhatsApp?
Since MAWhatsApp is a modified version, you will not receive official updates from WhatsApp. Updates for MAWhatsApp will be provided by the developer through the official website or application.
Can I use MAWhatsApp on any device?
MAWhatsApp is compatible with a wide range of devices. However, it's recommended to check the compatibility requirements and ensure your device meets them before installing the application.
How can I report issues or provide feedback for MAWhatsApp?
You can reach out to the developer, Monjed Amhaz, through the official website or contact support channels provided on the MAWhatsApp platform.
With MAWhatsApp, you can elevate your messaging experience and unlock a world of possibilities. Enjoy enhanced privacy, advanced customization, and seamless communication with this feature-rich alternative version of WhatsApp.