Introduction:
Welcome to the enhanced world of iPhone WhatsApp Watusi, a feature-packed modification of the popular messaging application WhatsApp. Developed by Fouad Raheb, this modified version offers an array of unique and advanced features that elevate your WhatsApp experience to new heights. If you've ever felt limited by the standard WhatsApp functionalities, iPhone WhatsApp Watusi is here to provide you with the freedom to customize and control your messaging app like never before.
What is iPhone WhatsApp Watusi?
iPhone WhatsApp Watusi is a modified version of WhatsApp that incorporates a plethora of exclusive features designed to enhance your privacy, user interface, multimedia options, and overall user experience. Developed by Fouad Raheb, this version is known for its impressive customization options and added functionalities that go beyond what the official WhatsApp offers.

Features of WhatsApp Watusi: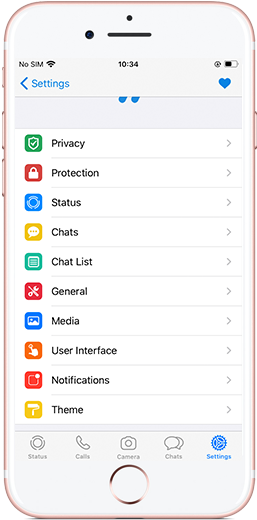 WhatsApp Watusi offers a wide range of unique features that enhance your WhatsApp experience and provide additional functionalities not available in the standard WhatsApp application. Here are the key features of WhatsApp Watusi: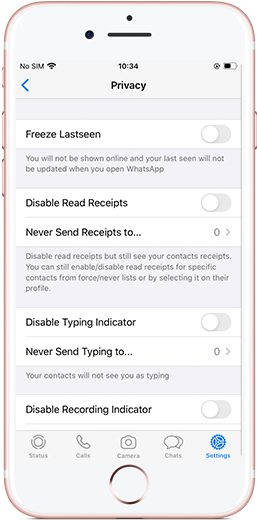 1. Privacy Settings:
Freeze last seen: Keep your last seen timestamp unchanged, providing you with enhanced privacy.
Hide Blue ticks: Read messages discreetly without showing the blue tick to the sender.
Mute calls and block incoming voice calls: Control your call notifications and block unwanted callers.
2. Protection Options:
Use passwords: Add an extra layer of security to your WhatsApp with password protection.
Bypass app protection and chat protection: Access your WhatsApp without unnecessary hindrances.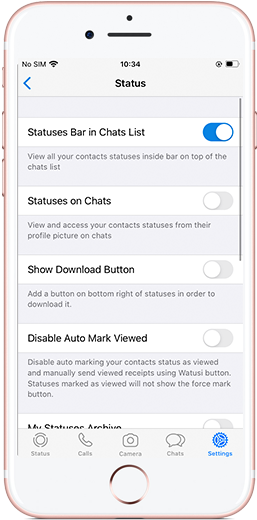 3. Status Settings:
View contacts' statuses anonymously: View your contacts' statuses without them knowing.
Status archive: Archive and browse your status updates easily.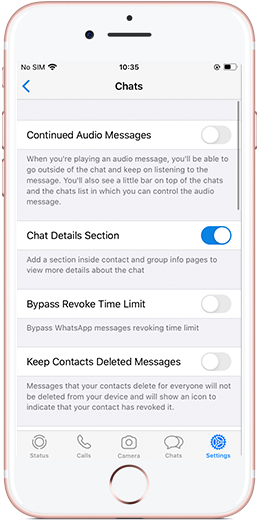 4. Chat Options:
Resume recording: Continue recording voice messages even when you exit the chat.
Bypass 7-minute limit for message deletion: Delete messages beyond WhatsApp's standard 7-minute limit.
Read deleted messages: Read messages that have been deleted by the sender.
5. Chat List Settings:
Pin more than three chats: Pin an unlimited number of chats for quick access.
Increase status characters: Extend the character limit for your WhatsApp status from 139 to 256 characters.
View profile photos with one click: Easily view profile photos of your contacts directly from the chat list.
6. Media Settings:
Send unlimited photos at once: Select and send multiple photos to your contacts simultaneously.
Disable saving WhatsApp camera images: Turn off the automatic saving of images captured with the WhatsApp camera.
Forward messages to multiple recipients: Share messages with several contacts at the same time.
7. User Interface:
Disable converting single emoji messages: Prevent single emoji messages from being displayed as larger emojis.
Show keyboard directly after entering a chat: Enhance chat interaction with faster access to the keyboard.
Display seconds in last seen and message timestamps: View timestamps with precise seconds.
8. Notification Settings: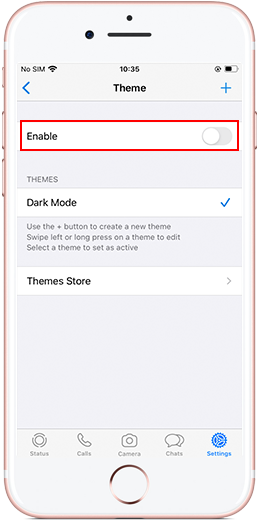 9. Dark Mode:
WhatsApp Watusi offers these features within the WhatsApp app itself, providing a comprehensive and convenient way to customize and enhance your WhatsApp messaging experience.
Extra Features of iPhone WhatsApp Watusi:
Privacy Enhancements: Hide your "online" status and last seen timestamp, turn off read receipts, and disable the infamous blue ticks and second tick, ensuring you have more control over your privacy.
Customization: Personalize the appearance of your WhatsApp with various options to suit your style and preferences.
Full-Size Profile Picture: Set a full-size profile picture without any restrictions, allowing you to showcase your images with clarity.
Media Sharing: Send more than 10 media files at once, making sharing photos and videos with your contacts faster and more efficient.
Music Sharing: Share music directly from your iPhone with ease, adding a musical touch to your conversations.
One-Click Audio Recording: Record audio with just one click, simplifying the process of sending voice messages.
App Lock: Secure your WhatsApp conversations with a password or fingerprint Touch ID, if supported by your phone, ensuring your chats remain private.
How to Download iPhone WhatsApp Watusi iOS?
To download iPhone WhatsApp Watusi on your iOS device, follow these steps: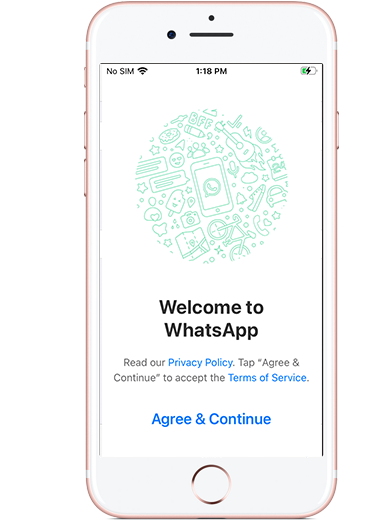 Once the download is complete, open the installation file to install WhatsApp Watusi on your iPhone.
After installation, launch the app, and you'll be greeted with an interface similar to the original WhatsApp.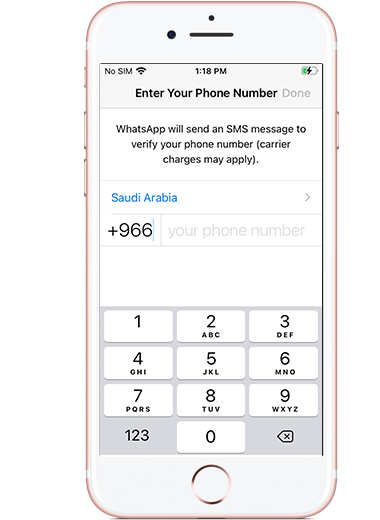 Log in to WhatsApp Watusi using the same credentials as you do for the official WhatsApp.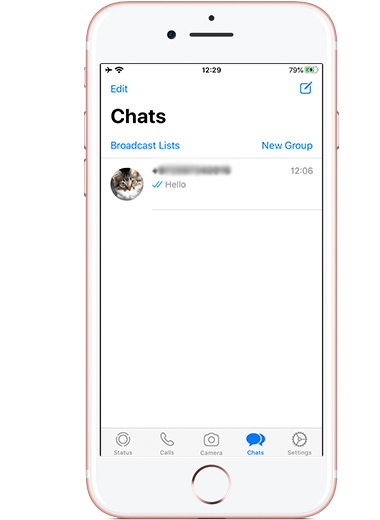 Enter your name and profile picture, and you'll be directed to the main interface of WhatsApp Plus Watusi, where you'll notice no significant difference from the official WhatsApp.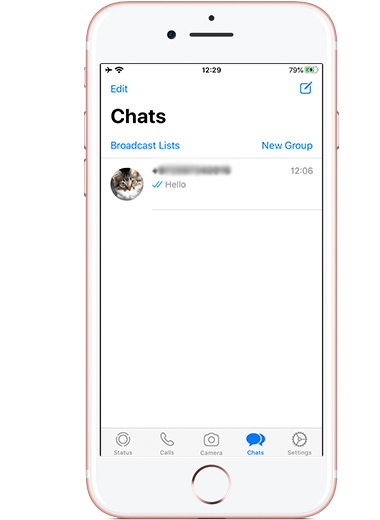 Watusi WhatsApp iOS Settings:
If you wish to access Watusi WhatsApp iOS settings, follow these steps: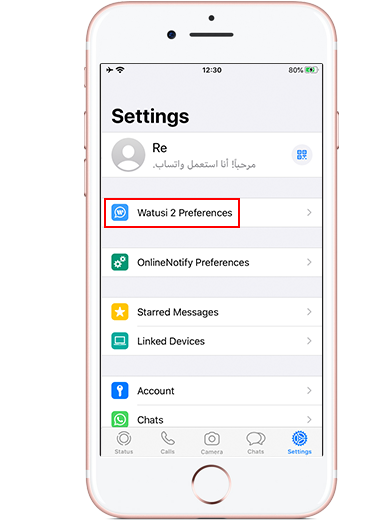 Look for the gear icon ⚙ located on the lower bar of the screen. Tap on it to access the application settings.
Within the settings, you will find Watusi settings, providing you with extensive control over various aspects of the app.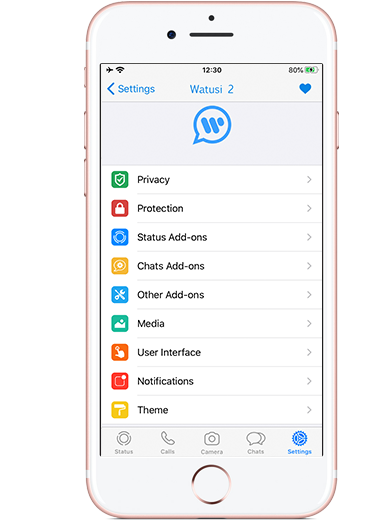 Privacy Settings:
In the privacy settings, you'll have the following options: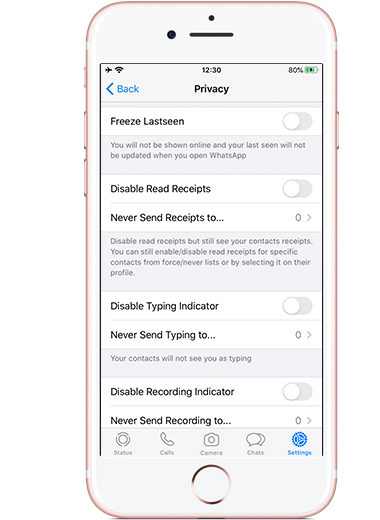 Turn off "last seen" status, preventing others from knowing when you were last online.
Hide the blue ticks and customize who can see the read receipts, giving you more control over read notifications.
Hide "Typing" status from everyone or customize who can see it, maintaining your privacy.
Turn off "Recording" indication when you record audio, allowing you to send voice messages discreetly.
Hide the second tick, so others can't see when a message is delivered to you.
Ban incoming calls if you prefer not to receive any.
Security Settings:
In the security settings, you can customize the following: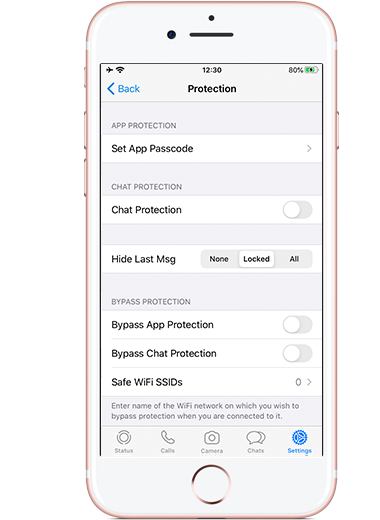 Lock the application with a password, adding an extra layer of security to your WhatsApp.
Lock individual conversations to keep them private.
Hide the last message on the chat, ensuring your conversations remain confidential.
Status Options:
In the status options, you'll find various features, including: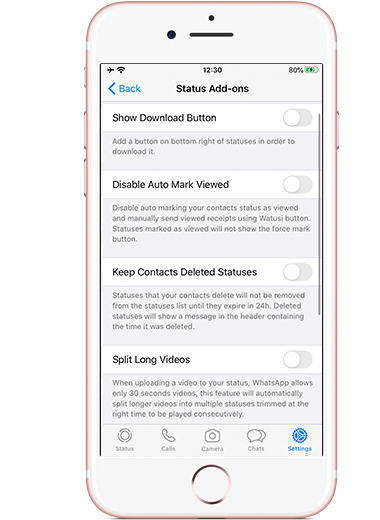 Download and save any status from your contacts, even if it disappears after 24 hours.
Hide your own view status, so others won't know if you've seen their updates.
Status lasts more than 24 hours, allowing you to keep your favorite status for an extended period.
Split long videos, overcoming WhatsApp's limitation on video length.
Turn off auto-play for the next status, giving you control over the media you consume.
Chat Options:
The chat options include: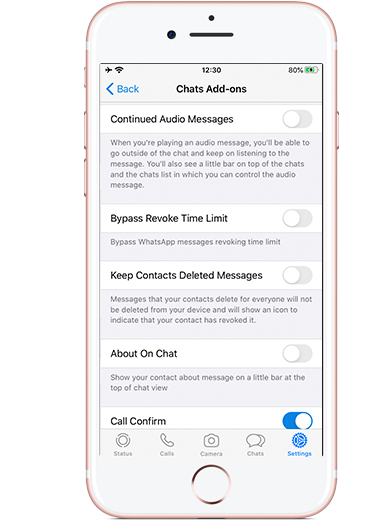 The ability to delete messages after 10 minutes of sending them.
Viewing deleted messages, ensuring you can still see them even if others remove them.
Confirming video or voice calls before answering.
Clicking once to record audio for ease of use.
Stopping auto-play for voice messages to manage your media playback.
Customizing the number of messages for each group member.
Enabling or disabling the profile picture next to messages in group chats.
Hiding "Forward Message" when sending forwarded messages.
Expanding the number of people you can send forward messages to (up to 20).
Other Additions:
Additional features include: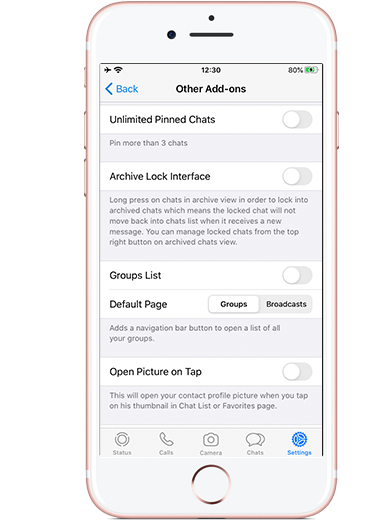 Pinning an unlimited number of chats for quick access.
Locking archived chats for extra privacy.
Viewing profile pictures directly from chat.
Swiping chats to the right to delete them swiftly.
A new button on the groups tab that allows you to select all contacts to add them to the group.
Multimedia Options:
In the multimedia options, you have: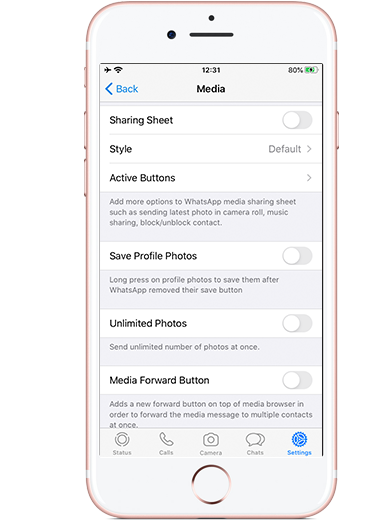 Saving profile pictures with a long press.
Selecting an unlimited number of pictures to send at once.
Adding a button to forward media to multiple contacts simultaneously.
A button to delete all media for any of your contacts.
User Interface:
The user interface features include: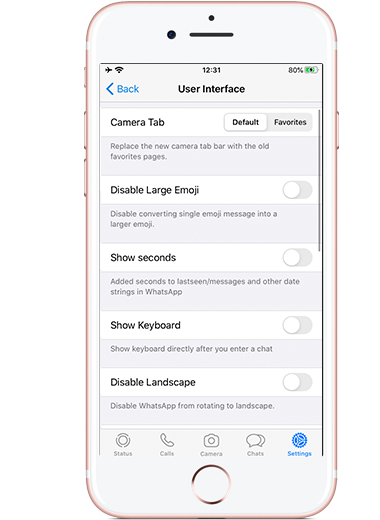 Replacing the camera button in the middle of the lower bar with a favorite page.
Disabling the large emoji that appears when you send one or more emojis.
Displaying seconds in the last seen and message timestamps.
Automatically showing the keyboard when you open any chat.
Disabling auto-rotation to landscape mode.
Muting sounds and keyboard clicks.
Hiding the camera button, microphone, and stickers button.
Notifications:
In the notification settings, you can: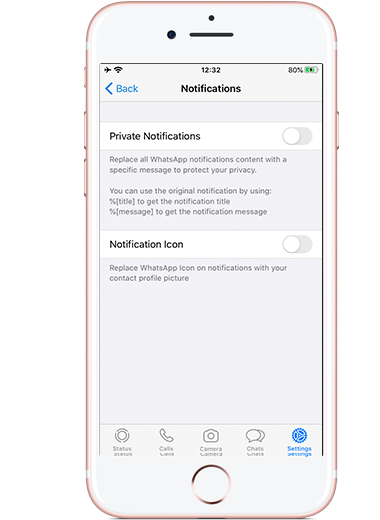 Enable or disable private notifications and customize their content.
Enable or disable inside notifications for a seamless experience.
Additionally, there are more settings and options you can explore in Watusi Settings to tailor your WhatsApp experience to your preferences. Enjoy the enhanced features and customization options offered by iPhone WhatsApp Watusi!
To install Watusi WhatsApp on your iPhone, follow these steps:
Access Cydia: Ensure your iPhone is jailbroken, as Watusi WhatsApp is a third-party modification that requires a jailbroken device. Open Cydia, the app store for jailbroken iPhones.
Search for Watusi: In Cydia, locate the search box and type "Watusi" in the search field.
Choose Watusi 3: After typing "Watusi" in the search box, several options will appear. Look for "Watusi 3" and select it.
Install Watusi 3: Once you've selected "Watusi 3," you will see an "Install" button on the top left of the screen. Click on "Install" to begin the installation process.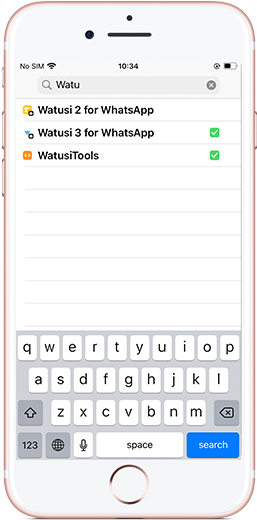 Wait for Installation: Cydia will now install Watusi 3 on your iPhone. Wait for the installation to complete.
Respring Your Device: After the installation is complete, Cydia will prompt you to "Respring" your device. Respringing is similar to restarting your iPhone, but it only refreshes the user interface and doesn't fully reboot the device.
Launch WhatsApp: Once your device has resprung, go to your iPhone's home screen and launch WhatsApp. You should now have Watusi features integrated into your WhatsApp application.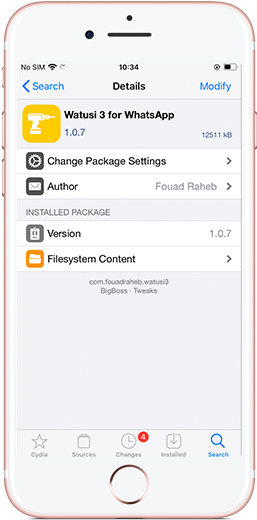 Sideloading No Jailbreak:
For users who do not have a jailbroken device, you can sideload WhatsApp Watusi without the need for jailbreaking by following these steps:
Download the IPA file of the desired WhatsApp Watusi version from the provided link.
Follow the instructions to sign and install the app from your computer.
The IPA files available have the Plugins folder deleted and include fixes to prevent WhatsApp from crashing when not signed with proper entitlements and a developer account.
There are three versions available for download:

WhatsApp (Bundle: net.whatsapp.WhatsApp, Version: 23.13.80)
WhatsApp Duplicate (Bundle: com.fouadraheb.watusi, Version: 23.13.80)
WA Business (Bundle: net.whatsapp.WhatsAppSMB, Version: 23.13.83)

The tweaks Stalky and OnlineNotify are disabled by default in the IPA files and can be enabled from within Watusi Settings.
Sideloading with TrollStore:
TrollStore offers sideloading options for iOS devices running iOS 14 – 15.1.1 on all devices and iOS 14 – 15.5 b4 on iPhone X and older models. Follow these steps to sideload WhatsApp Watusi using TrollStore:
Choose the appropriate IPA version for your device from the provided list:

WhatsApp (Bundle: net.whatsapp.WhatsApp, Version: 23.13.80)
WhatsApp Business (Bundle: net.whatsapp.WhatsAppSMB, Version: 23.13.83)

Sideload the IPA file onto your device using the TrollStore platform.
Upon successful sideloading, you'll have access to WhatsApp Watusi with Stalky and OnlineNotify tweaks disabled by default, which you can enable from within Watusi Settings.
Conclusion:
In conclusion, iPhone WhatsApp Watusi, developed by Fouad Raheb and available at "https://redwhatsapp.com/," is an impressive modification of WhatsApp that unlocks a world of possibilities for its users. With features like enhanced privacy settings, customization options, improved multimedia capabilities, and added security, Watusi takes your WhatsApp experience to the next level. If you're looking to break free from the limitations of the standard WhatsApp and enjoy a more personalized messaging experience, iPhone WhatsApp Watusi is the perfect solution for you. Download the app, explore its many features, and enjoy a truly enhanced WhatsApp experience on your iOS device.