Introduction: GBWhatsApp (Russian) by YoWApp
Welcome to GBWhatsApp (Russian), a feature-rich modified version of WhatsApp developed by YoWApp. GBWhatsApp offers a plethora of additional functionalities and customization options to enhance your messaging experience. If you're looking for a WhatsApp alternative with advanced features, look no further! Read on to discover what sets GBWhatsApp apart and how it can elevate your communication game.
What is GBWhatsApp?
GBWhatsApp is a modified version of WhatsApp designed to provide users with extended features and improved customization options. Developed by YoWApp, this version aims to address common issues, introduce new functionalities, and offer an overall enhanced user experience for Russian-speaking users.
Features:
Improved Message Scheduler: No more crashes while using the Message Scheduler feature, ensuring timely and reliable scheduling.
Enhanced Compatibility: GBWhatsApp works seamlessly on a wider range of devices, resolving the issue of app opening errors on some phones.
Smooth Location Sharing: Send My Location issues have been fixed, ensuring smooth location sharing.
Functional Map Button: The My Location button on the map now works flawlessly, improving navigation convenience.
Increased File Sharing Limit: Enjoy the ability to send documents, media, and audio files up to 100MB+ in size, making communication more versatile.
View Once Features Fixed: The previously problematic "View Once" download and mark as open options have been resolved.
Contact Online Toast Fixed: Stay informed about who is online with the fixed Contact Online Toast feature.
Archived Groups Visibility: Archived groups now show up correctly in the groups tab.
Improved Recording Entry Style: Experience enhanced recording functionality with a rounded entry style.
Customizable Home Tab: Tailor the appearance of your Home Tab with the option to change the underline color and text font style in edit images.
iOS 2023 Emojis Pack: Enjoy a fresh set of iOS 2023 Emojis to add more expression to your chats.
Direct Translate Feature: Instantly translate messages within the app with a 1-click language selection option.
Additional Attachment Options: Access more attachment options for various entry styles, including Hangouts, WAMOD, Dribble, and more.
Message Yourself (Save Notes): Utilize the ability to save notes or messages to yourself for quick access.
Post Voice Note as Status/Story: Share your voice notes as status updates to keep your contacts updated.
Backup and Restore Media: Users on Android 11+ can now back up and restore media (images, videos, etc.) without GDrive.
Improved Anti-Ban Protection: GBWhatsApp incorporates robust anti-ban measures, ensuring a safer messaging experience.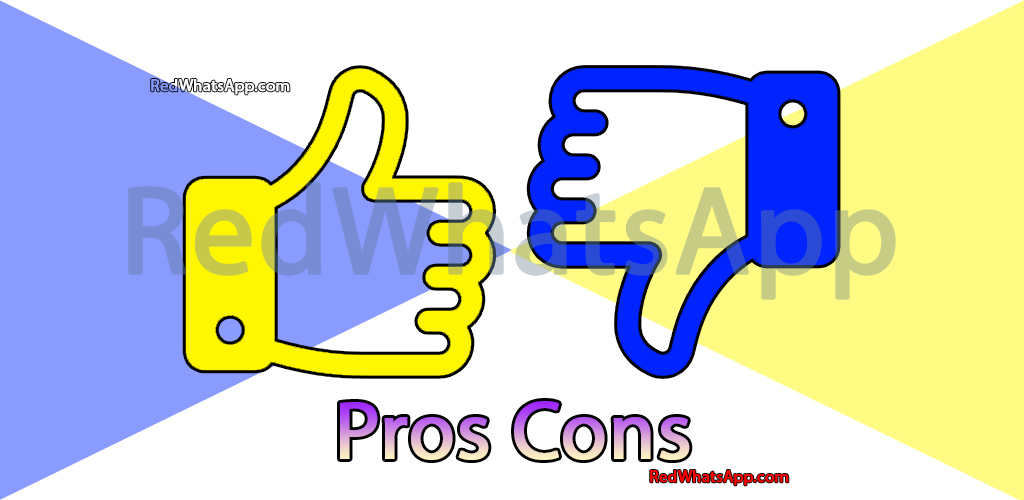 Pros of GBWhatsApp (Russian) by YoWApp
Enhanced Anti-Ban Protection: GBWhatsApp prioritizes user security by continuously adding more anti-ban measures, reducing the risk of account bans.
User-Friendly UI: The new "Msg a number" UI design streamlines the process of sending messages to specific contacts, making it more intuitive and efficient.
Customizable Status Page: GBWhatsApp offers options to hide "Save" and "Mark Seen" buttons on the status page, allowing for a cleaner and less cluttered user interface.
Personalized Fonts: Enjoy the freedom to load custom fonts, enhancing the overall look and feel of your WhatsApp chats.
Hide Status Cutter FAB: GBWhatsApp allows you to hide the Status Cutter FAB, providing a cleaner experience when viewing and posting status updates.
Automated Backups: FMBackup (Titanium) now automatically backs up your media daily, ensuring your data is protected and retrievable.
Proxy Settings: Enabled Proxy Settings provide users with more control over their data and privacy during WhatsApp usage.
Keep Messages Option: Active "Keep messages" option while disappearing mode is active, allowing you to retain messages for a longer duration.
Improved Stability: Fixed various crashes, including auto-reply and WhatsApp fingerprint lock issues, providing a smoother and more reliable user experience.
Customizable Entry Styles: GBWhatsApp introduces more attachment options for entry styles like Hangouts, WAMOD, Dribble, and more, catering to diverse user preferences.
Avatar Creation: Enjoy the ability to create a unique avatar (Bitmoji-like) for your WhatsApp profile, adding a personalized touch to your account.
Enhanced Media Sharing: Send captions along with documents, media, and audio files for better context and communication.
Improved Privacy Features: GBWhatsApp addresses issues with Hide Typing & Recording privacy, ensuring your actions remain private when enabled.
Status Viewing Improvements: Hidden chats now include a "Forward to" option, and Conversation Cards (multi-chats) are optimized for a more engaging experience.
Translation Feature: The Direct Translate icon inside the message box offers quick language translation, enhancing communication with multilingual contacts.
Cons of GBWhatsApp (Russian) by YoWApp
Third-Party App: As a modified version of WhatsApp, GBWhatsApp is not an official release and may lack the same level of support and security checks.
Possible Account Suspension: Using modded apps like GBWhatsApp may violate WhatsApp's terms of service, leading to potential account suspension or ban.
Data Privacy Concerns: Modified apps like GBWhatsApp may have security risks, including data collection or unauthorized sharing of information.
Limited Official Support: As a third-party app, GBWhatsApp may not receive regular updates or official customer support, leading to potential bugs or issues.
Instability: Some features or customizations in GBWhatsApp might not work as expected on all devices due to its modified nature.
Security Risks: Installing apps from third-party sources can expose your device to potential security vulnerabilities.
Compatibility Issues: GBWhatsApp might not be compatible with all Android versions or devices, leading to occasional glitches or crashes.

FAQ – GBWhatsApp (Russian) by YoWApp
1. What is GBWhatsApp (Russian) and who developed it?
2. Where can I download GBWhatsApp (Russian)?
3. What is the size of the GBWhatsApp (Russian) app?
The size of the GBWhatsApp (Russian) app is approximately 69MB.
4. What are the new features added in the recent update?
The recent update introduced several exciting features, including:

Group Admin Indicator control options.
Color customization for Group Admin Indicator icon.
Simplified main menu with tools moved to the Functions menu.
Various color customization options for Functions and More Options menus.
New tools like "Saved Replies" and "Who Blocked Me?" added to the Functions menu.
Translation button for the message entry field with color selection.
Option to disable toast message for translation button.
Special Design 3 (BETA) with extensive color customization.
Option to change orders icon in chats with color selection.
Ability to share multiple images, videos, and files from chat to outside apps.
Unread messages filter when using the search feature.
New drawing pen for enhanced creativity.
Ability to leave groups secretly with only admins knowing.
Admins can now remove other people's messages in group chats.
Past participants of groups can be viewed, along with the time they left.
Quick reactions to status updates.
New text status UI and status privacy design.
Improvements to the go to first message feature and group message counter.
Bug fixes, updated translations, and design improvements.
5. Is GBWhatsApp (Russian) safe to use?
GBWhatsApp (Russian) is a modified third-party app, which may present some security risks. Exercise caution when using such apps, as they might not have the same level of official security and support.
6. Can I get banned for using GBWhatsApp (Russian)?
7. Are regular updates available for GBWhatsApp (Russian)?
Yes, regular updates are provided to improve and enhance the GBWhatsApp (Russian) experience. Visit the official website to check for updates.
8. Is GBWhatsApp (Russian) compatible with all Android devices?
GBWhatsApp (Russian) may not be fully compatible with all Android versions and devices, which could lead to some functionality issues.
9. Does GBWhatsApp (Russian) offer customer support?
As a third-party app, GBWhatsApp (Russian) may not have official customer support from WhatsApp. Rely on community forums and the developer's website for assistance.
10. Should I backup my data before installing GBWhatsApp (Russian)?
Note: Use GBWhatsApp (Russian) at your own discretion, as it may not provide the same level of security and support as the official WhatsApp application.

Installation Guide – GBWhatsApp (Russian) by YoWApp
Before proceeding with the installation, please note that GBWhatsApp is a modified third-party app, and using it may carry certain risks. Make sure to back up your WhatsApp data before installing GBWhatsApp to avoid any potential data loss. Follow these steps to install GBWhatsApp (Russian) on your Android device:
Step 1: Enable Installation from Unknown Sources
Go to your device's "Settings."
Navigate to "Security" or "Privacy" settings.
Look for the "Unknown Sources" option and enable it. This allows you to install apps from sources other than the Google Play Store.
Step 2: Download GBWhatsApp (Russian)
Visit the official website of YoWApp at https://redwhatsapp.com/ using your device's web browser.
Locate the download link for "GBWhatsApp (Russian)" and click on it to initiate the download.
Step 3: Install GBWhatsApp (Russian)
Once the download is complete, tap on the downloaded APK file from your device's notification panel or go to the "Downloads" folder in your file manager and find the APK file.
Tap on the APK file to begin the installation process.
A prompt will appear asking for your permission to install the app. Tap "Install" to proceed.
Step 4: Verify Your Phone Number
Launch GBWhatsApp (Russian) after installation is complete.
Enter your phone number and tap "Next."
GBWhatsApp will send an OTP (One-Time Password) to the provided number. Wait for the OTP to be automatically detected, or enter it manually if necessary.
Step 5: Restore Backup (Optional)
If you have previously backed up your WhatsApp data, GBWhatsApp will prompt you to restore it. Follow the on-screen instructions to restore your chats and media.
Step 6: Set Up Your Account
Customize your account settings, privacy options, and appearance preferences as desired.
Explore the new features and tools offered by GBWhatsApp (Russian) to enhance your messaging experience.
Congratulations! You have successfully installed GBWhatsApp (Russian) on your Android device. Enjoy the added functionalities and customization options that this modified version provides. Remember to exercise caution when using third-party apps and keep your GBWhatsApp (Russian) app updated for the latest features and bug fixes. If you encounter any issues or have questions, refer to community forums or the developer's website for support.
Conclusion:
GBWhatsApp (Russian) by YoWApp is a powerful modded version of WhatsApp that brings a range of exciting features and customization options to its users. With improved performance, a variety of bug fixes, and an extensive set of features, GBWhatsApp enhances your WhatsApp experience to new heights. Embrace the possibilities of seamless communication and explore the numerous improvements and enhancements offered by GBWhatsApp.
Ready to elevate your WhatsApp experience in Russian? Download GBWhatsApp (Russian) from https://redwhatsapp.com/ and embark on a journey of delightful messaging with unparalleled features and functionalities. Keep up with regular updates to enjoy the latest enhancements and improvements.