Introduction:
Welcome to the world of WhatsApp Transparent Antiban, an innovative messaging application developed by RedWhatsApp. If you're seeking a unique and customizable messaging experience, you've come to the right place! With its distinctive features and privacy options, WhatsApp Transparent is taking communication to a whole new level. Let's dive into its exciting features and discover why this app stands out from the crowd.
What is WhatsApp Transparent Antiban?
WhatsApp Transparent Antiban is a modified version of the popular messaging application, WhatsApp. Developed by RedWhatsApp, this version brings a fresh approach to messaging by offering enhanced privacy settings, unique customization options, and exciting features not found in the official version.
Features: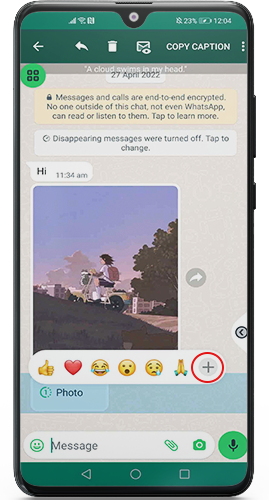 React to chats with Emoji: Express yourself like never before by reacting to messages with any emoji of your choice. A simple double-tap also allows you to like any chat, making conversations more engaging and enjoyable.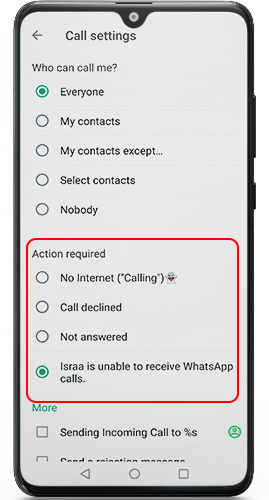 Control your Call Settings: Take control of your calling experience with the ghost mode for calls and various call rejection options. Customize your call settings to suit your preferences and maintain your privacy.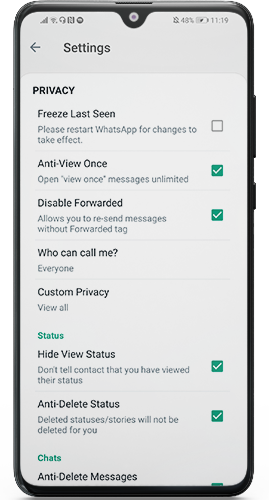 Freeze Last Seen: Enjoy heightened privacy with WhatsApp Transparent 2023's ability to freeze your last seen status. Take charge of who can call you, disable message forwarding, and safeguard your personal information.
Save View Once Media: Unlike the official WhatsApp version, WhatsApp Transparent allows you to save view once media to your device. With the added option to control who knows you've seen it, you have complete control over your interactions.
WhatsApp Transparent Old Version: Previous versions like WhatsApp GB Transparent and Royal WhatsApp Transparent APK may be a thing of the past, but WhatsApp Transparent continues to thrive with regular updates and enhanced functionality.
Extra Features: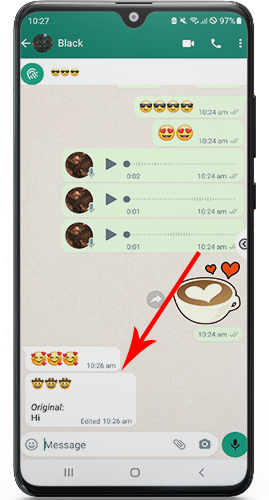 See the Original Chat in the Edited Message: Quickly refer back to the original content of an edited message for context and clarity, saving you from potential misunderstandings.
Chats Transfer between Phones: Seamlessly transfer your chats between devices without relying on Google Drive. Enjoy the convenience of having your conversations wherever you go.
Official Locked Conversations: Keep sensitive conversations secure by enabling the locked conversation feature through the Chat Info page, providing an additional layer of protection.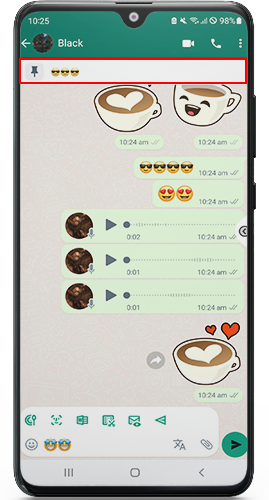 Pin Messages in Private Chats: Never lose important messages again. Pin essential messages in private chats and receive pinned messages from others for easy access.
Large File Sharing: Share documents, media, and audio files up to 100MB+ in size, making it easier than ever to communicate and collaborate.
Multi-Device Support: Link your WhatsApp account to up to four different devices, ensuring you're always connected, no matter where you are.
How to get a Transparent WhatsApp theme?
To enable the Transparent WhatsApp theme:
Go to the app settings and click on the application theme.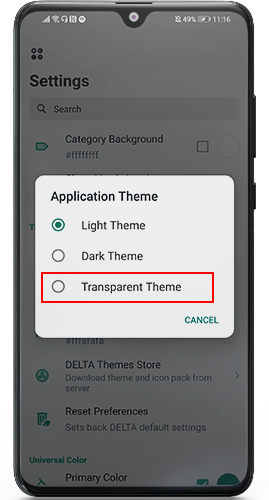 Select the transparent theme from the options provided.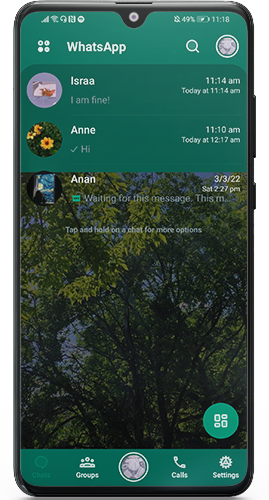 Your home screen will now transform into a stylish transparent design.
To make the chat screen transparent as well, navigate to the settings menu, tap on chat screen, and select wallpaper view.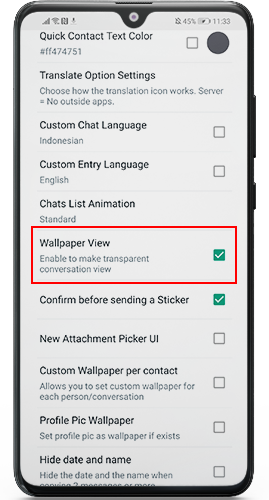 Pros:
Emoji Reactions: Express yourself creatively by reacting to messages with any emoji and double-tap to like chats, making interactions more engaging.
Call Control: Activate ghost mode for calls and customize call rejection options to manage your calling experience efficiently.
Enhanced Privacy: Enjoy high levels of privacy with features like freezing last seen, controlling incoming calls, and disabling forwarded messages.
Save View Once Media: Save view once media to your phone and choose whether others should know you've seen it with a simple eye icon click.
Updated and Supported: Unlike older versions, WhatsApp Transparent Antiban is regularly updated and supported by the developer, ensuring a reliable user experience.
Cons:
Third-party Application: WhatsApp Transparent Antiban is a modified version of the official WhatsApp, which may raise concerns about security and data privacy.
Possible Unavailability on App Stores: As a modified app, WhatsApp Transparent Antiban might not be available on official app stores, requiring users to download it from the developer's website.

FAQ:
Q: Is WhatsApp Transparent Antiban safe to use? A: WhatsApp Transparent Antiban is developed by RedWhatsApp, and while it offers exciting features, it is a third-party application. Exercise caution and ensure you download it from a trusted source.
Q: Can I transfer my chats to a new phone without using Google Drive? A: Yes, WhatsApp Transparent Antiban allows you to transfer chats between phones directly from the app settings, providing a convenient way to migrate your conversations.
Q: How can I enable locked conversations? A: To enable locked conversations, visit the Chat Info page and select Lock to add an extra layer of security to sensitive chats.
Q: Can I use WhatsApp Transparent on multiple devices? A: Absolutely! You can link your WhatsApp account to up to four different devices, enhancing your connectivity and accessibility.

Installation Guide:
Download WhatsApp Transparent Antiban: Visit the official website at https://redwhatsapp.com/ to download the app. The file size is 67MB.
Allow Installation from Unknown Sources: Before installing, ensure that your device allows installations from unknown sources. You can do this by going to Settings > Security > Unknown Sources and enabling it.
Install the App: Locate the downloaded APK file and tap on it to begin the installation process.
Complete Installation: Follow the on-screen instructions to complete the installation. Once done, you'll find WhatsApp Transparent Antiban on your device's app list.
Conclusion:
WhatsApp Transparent Antiban, brought to you by RedWhatsApp, is a feature-rich messaging application that elevates your communication experience to new heights. With its diverse customization options, enhanced privacy features, and unique abilities, WhatsApp Transparent sets itself apart from the standard messaging apps. Embrace the future of messaging and download WhatsApp Transparent Antiban, available at https://redwhatsapp.com/, today! The 67MB download will open up a world of exciting possibilities for your conversations.